Atopic dermatitis, also known as endogenous eczema, is a benign disease with a multifactorial aetiology, which, together with asthma and allergic rhinitis, is one of the atopic diseases, i.e. diseases related to the tendency of certain (atopic) individuals to manifest amplified immune responses to small amounts of allergens.
We distinguish two forms of atopic dermatitis
atopic dermatitis in children, a pathology with a high incidence (1 in 10 children), characterised by exacerbations and remissions (tends to improve during the summer season) and, in 80% of cases, spontaneous resolution;
atopic dermatitis of adults, of which we distinguish persistent forms, i.e. forms in which the patient, already suffering from atopic dermatitis in childhood, continues to present significant lesions in adulthood, and de novo forms, i.e. those in which the manifestations appear for the first time in post-adolescence.
Are you interested in finding out every single detail about atopic dermatitis and how it can be treated effectively so that a true resolution can be found? Great, then our only advice is to proceed with the reading of our article, as we will discuss it in the latter.
How is atopic dermatitis diagnosed?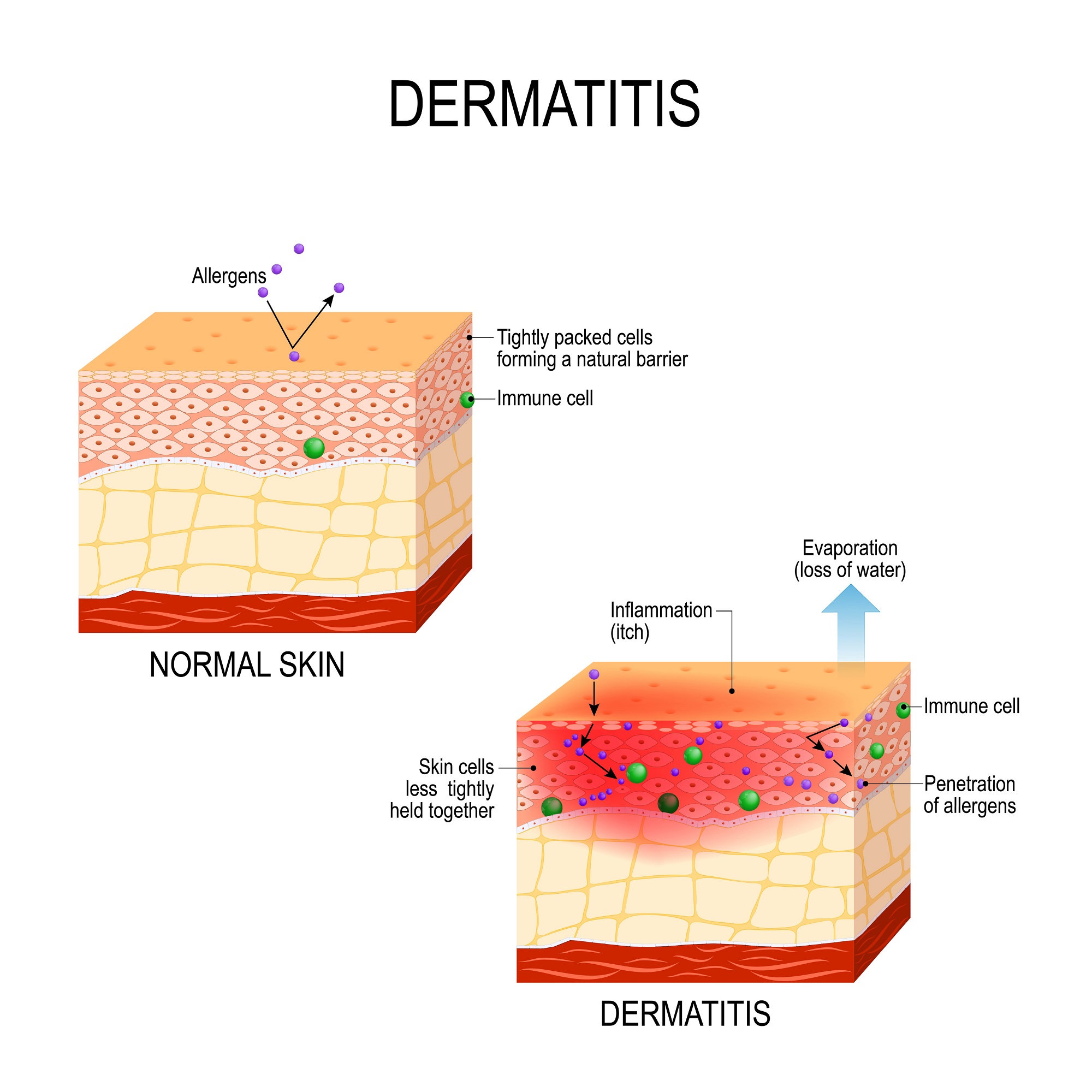 There is no specific laboratory investigation of atopic dermatitis. The diagnosis is essentially clinical and is based on major clinical signs and minor clinical signs.
The diagnosis of atopic dermatitis is fundamental precisely because this dermatological disorder, if left untreated, could lead to significant bacterial infections. The skin would then create lesions, which would be truly dangerous from various points of view.
In order for the diagnosis of atopic dermatitis to become possible, it is essential that the doctor, more specifically the dermatologist, is highly specialised from this point of view, precisely because, although it is a widespread pathology, it could also be mistaken for other minor ailments.
The therapy that can be implemented to treat atopic dermatitis
There are different types of therapy for atopic dermatitis that must be studied by professionals according to the personal situation. These are:
Use of emollients to combat dryness and itching.
Use of topical corticosteroids and, in particularly difficult phases and for short periods, systemic corticosteroids.
Use of topical calcineurin inhibitors (tacrolimus or pimecrolimus) in case of corticoresistance or in more sensitive areas such as the face or genitals.
Use of systemic calcineurin inhibitors (cyclosporine) in the most severe cases, in adults.
Use of antihistamines to relieve itching.
Use of antibiotics ONLY in cases of bacterial overinfection.
UVB narrow-band phototherapy is another very good treatment option for this dermatosis.
Each therapy is perfect for different patients, and it is good to find the most effective one for your needs so that you can finally have a resolution to a rather common dermatological disorder.
The conclusions of the article
We have thus come to the end of our article, in which we have been able to analyse in some detail all that is important to know about atopic dermatitis, a rather common dermatological disorder.
Atopic dermatitis is a disease at the immune level that it is essential to treat properly and according to one's personal needs, so that one can forget this type of disorder forever, with the constant use of various remedies.
We therefore thank you for having read our article up to this point, and hope that it was indeed useful to you in order to understand what is essential to know about atopic dermatitis, one of the currently most popular diseases and disorders of the dermatological sphere.
You may also like